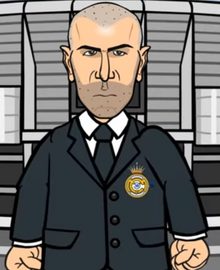 He is the coach of Real Madrith. He first appeared in the video where Rafact Benitesh got sacked and he became the new coach. He is also known as Zizou.
A running gag in the series is his pants getting ripped.
Trivia
He is a former player than Old lady and Real Madrith, he retired on 9/7/2006 when he headed Marco Materazzi in the final of World Cup 2006, The referee has expelled him.
This Coach last name after Name of 442oons Fans in Instagram @zidanne_love_linda but in autumn he change to @zizou_love_linda .
Gallery