Yougurn is the current German manager of Liverinthepastpool and former manager of Dorussia Dortmund.
Character
Edit
He is a very cool and radical, always preferring team work and usually getting happy even when bad things happen. Despite this he can be a maniac when he needs/wants a good player to stay in his club (as shown with Cuteinho and Mane).
First Apparence Latest Appearance
Dortmund vs Bayern Munich Preview Show Matchday 16
442oons Career
Edit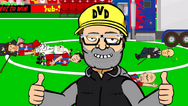 Klopp first appeared in the episode of the DFB Pokal Cup semi final with
DVD
vs
Bayern Munchausen
. The episode was based on Bayern's failed penalties Benny Hill style. All the Bayern characters ended up injured (except Dante who ran over
Thomasshole Muller
after boasting the 7-1 World Cup victory) and Klopp giving 2 thumbs up at the end.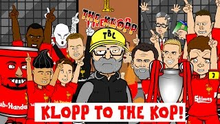 Klopp then appeared in the episode before Brendan the Elephant Seal's sacking where LFC owner John Henry invited Klopp to be the new manager before turning it down as he was holding out for the Bayern job. Klopp later of course accepted Lolerpool and is now their manager.
The original character was called Yougone Klopp. He wore a hoodie and a yellow cap and had a round face. He appeared in Bayern Munchausen vs DVD Terrible Penalties, Klopp to the Kop, Chelsea 1-3 Liverpool and Wacky Races Stage 12 before he was given an update. This new character had blonde hair in place of brown and no cap . He also now wore a navy tracksuit with the Leavethepool badge. He appeared in Man City 1-4 Liverpool and Wacky Races stage 13. This design's hair colour soon turned to brown and this design remained for the rest of the 2015-16 season. He was redesigned yet again for the 2016-17 season. His brown hair was now mouse hair and his face was redesigned. This design first appeared in the Zlatan Does The Sky Sports Ad video.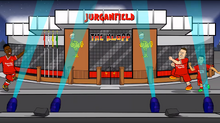 A running gag in the series is Klopp losing/breaking his glass.
He has carried Cuteinho and Mane is his back.