Tryiton Giggs is a Bales manager who currently manages Bales.
Bio
Appearance
Personality
History
Tryiton Giggs first appeared on LUIS SUAREZ BITE 🎬Silence of the Lambs Remake🎬! by 442oons (football cartoon parody) along with Chewy Suarez and Arsey Whinger. After Divhead Moyes got sacked, he was appointed interim manager of Ronchester United.
After a few years at United, Giggs went on and became Bales's manager
Relationships
Divhead Moyes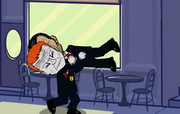 Divhead Moyes and Giggs quickly started hating each other after Moyes got sacked. Giggs had told Moyes that he was sh*gg*ng his wife. A few videos later, When Giggs was taunting Moyes again, Moyes responded by fighting him and smashing him to the ground.
Trivia
Gallery