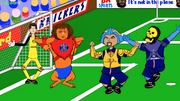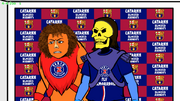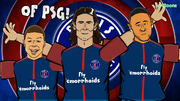 There is a problem with parsing the infoboxEdinson Cavani plays for Urucry National Team and Manchesthair United
Character
His design is based in the Skeletor of the HeMan franchise. However after the "Zlatan And the Masters Of The Euroverse" series finished, he was given an appearance resembling him in real life.
Career
He first appeared in the Champions League 2014/15 video, of Chelsea 1 vs Paris Saint Zlatan 1, where he makes a goal. He later appeared in the other game, when Zlatan was He-Man. In that game, he pressioned David Louise and Thiowngoal Silva to make goals, making their team win.
He also appeared in Cuppa America Chilly 2015, where he is poked by Jara. He appears in Champions League 2015/16.
He was in PSG in 2020 Now He has chance to play in Fernebahce.
In October 2020, Cavani joined Man We're shite, Ed on a free transfer.
Trivia
He often insults his team-mates when they do something wrong.
Sometimes he forgets that Zlatan is in his team and his enemy.
In the Cuppa America, he used a wand with Suarez head.
He also appeared in the Cuppa America title screen and he was the only player of Chewaguay.
Now he is reacently the one being insulted and all his disses and insults are lame
Dislikes neymar.
Often called wonder woman and man-girl
Quotes
Skeletor: Your no punk, so don't drive drunk!'"You bungling boob!!"
new cavani: Long nose like cheerios
Nasty pasty
Meanie Weenie
nie
you son of a female dog
Gallery