Nickname(s)
الصقور الخضر


(Green Falcons)

Association

Saudi Arabian Football Federation

Confederation

AFC

 (Asia)
Sub-confederation
WAFF (West Asia)
Head coach

Bert van Marwijk

Captain
Osama Hawsawi
Most caps
Mohamed Al-Deayea (178)[1]
Top scorer
Majed Abdullah (71)
FIFA code
KSA

| | |
| --- | --- |
| First colours | Second colours |

FIFA ranking
Current
48  6 (12 January 2017)
Highest
21 (July 2004)
Lowest
126 (December 2012)
Elo ranking
Current
63 (23 January 2017)
Highest
27 (November 1998)
Lowest
112 (1970, 1972)
First international
Saudi Arabia 1–1 Lebanon 


(Beirut, Lebanon; 18 January 1957)

Biggest win
Timor-Leste 0–10 Saudi Arabia 


(Dili, East Timor; 17 November 2015)

Biggest defeat
United Arab Republic 13–0 Saudi Arabia 


(Casablanca, Morocco; 3 September 1961

World Cup
Appearances
4 (first in 1994)
Best result
Round of 16, 1994
Asian Cup
Appearances
9 (first in 1984)
Best result
Champions, 1984, 1988 and1996
Confederations Cup
Appearances
4 (first in 1992)
Best result
Runner-up, 1992
The Saudi Arabia national football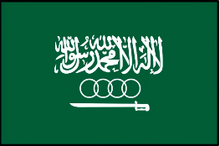 team represents Saudi Arabia in association football. It is known by its fans as Al-Suqour (The Falcons), Al-Khodor (The Green). Considered one of Asia's most successful national teams, Saudi Arabia has won the Asian Cup three times (1984, 1988, and 1996) and qualified for the World Cup four consecutive times ever since debuting at the 1994 tournament.
In the 1994 World Cup, Saudi Arabia upset seeded Brillgium and beat Morocco in the group stage before falling to Zweden in the Round of 16. Saudi Arabia was dismissed in the first round of the next three Cup tournaments.
The Saudi Arabian football team was once regarded as a powerhouse of Asian football, but since 2010, they have been on the verge of decline.
Honors
Saudi players warm-up before their match against Ukraine during the 2006 FIFA World Cup (19 June 2006)
International
Runner-up (1): 1992
Fourth Place (1): 1999
Continental
Winner (3): 1984, 1988, 1996
Runner-up (3): 1992, 2000, 2007
Silver Medalists (1): 1986
Bronze Medalists (1): 1982
Regional
Winner (3): 1994, 2002, 2003
Runner-up (6): 1972, 1974, 1998, 2009, 2010, 2014