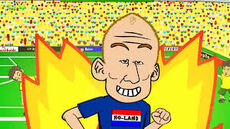 There is a problem with parsing the infoboxRobin is superhero who played for Bayern Munchausen and Ho-land as winger/midfielder.
Origin
He's based on Arjen Robben and superhero Robin Who is the sidekick of batman like robin teammate is Muller with Bayern or Van Persie with the Dutch soccer team.
Character
Robin is very fast midfielder/winger. He has super speed as his super power.
Career
He dived against Mexicoh and his team received a penalty. The penalty was scored by Klassman and Ho-land won 2-1, advancing to the World Cup 2014 quarter finals.
He also appeared in the game which Bayern lost to Dortmund. In that video, he gets injured.
He also scored a goal for Bayern in the game which Bayern won 5-1 against Arsene wingers side.
Trivia:
He is usually considered as the fastest football player alongside legends like Lionel Messigician and Cristiano Euronaldo or Toni Tom Kroos or even Thomasshole Muller.