Polandmerno is Greatalian club, and it plays in Serie B. Polandmerno's coach is BRUNOOOOOO TEDINOOO. The best player of Polanmerno is Don'tLiea Nestor. Polandmerno players are:
1. Looka Modricerro
3. Andrea Tirispoli
5.Slow-body-an Raymankovic
9. Steven Cookie Oreo
11. Carlton Colembalo
15. They-ago TheCheekyOnek
16. Norbert Balou
24. Przemysław SwishSwishMinski
30. Don'tLiea Nestor
35. Rafał Mudbrowski
In 2017, Paolo Back-Back-Agline-i forgot to pay for the club, and the owner job went to Zappacostini (AGAIN?). Then name of the club changed from PolePositionError to Polandmerno. Why? Zappacostini bought (or loaned) a few Po-land players.
Maybe some of these players could evolve into stars? Down here, you can see former players of Polandmerno. Some of these are superstars (without Ranieri).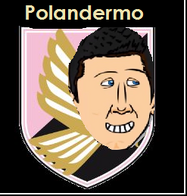 How could Polandmerno badge look------->
Former Players