There is a problem with parsing the infobox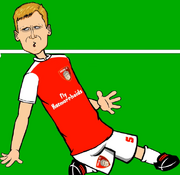 Per Merthetractor is a retired defender that currently manages the Arsene Academy. He played for Arsene FC and the Germazing national team.
He is a center back, he is best known for having no pace and that he tackled Diego Costly-Coffee. He was also the captain of the Arsene FC before he retired.
Trivia
His squad number was accidentaly made wrong, that's why his number appears 5, but in reality his number is 4 This error was later changed.