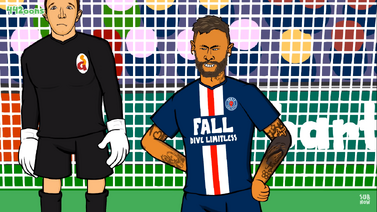 Neymar its a player that plays for Brazil National Football Team and for PSG and is the current best player in the world.
He is named like that, because he never pays his euros
Character
He plays very well, being one of the best on his team and country. He also has the habit of diving and changing his hairstyle. Neymar helps the refs make right decisions against plays, like Bucket's 1000 dives. Neymar isn't married, but has a relationship with his sister, but also somethimes smashes his mom.
Neymar is the best player of PSG(Paris Saint-Germain). He is almost always seen with Mbappe, he always speaks. Just like I said earlier.
Now Neymar has left FC Barcelona for PSG for 222 million. But now he wants to come back to FC Barcelona. He often asks Lionel if they are BFF's, but he says no. So now instead of Barcelona he is also considering to go back to Real instead of Barca. However this was only temporary. He is now fine at PSG and even wants Lionel Messi to join since he threatened to leave Barcelona. Lionel Messi was confident that he should move to PSG to join his former teammate.
He has the same birthday as Cristiano Ronaldo
Career
He was first seen on the opening of the World Cup 2014 with David Louise and Wrca for PSG and is never going back to Barca for 222 million. However, after winning the World Cup 2018, he signed his return to Barcelona to play with former team-mates, Suarez and Messi. he is also a master at diving.From 2018 World Cup
Interactions
Lionel Messi
He and Messi were good team mates, they were almost always seen together on a Barcelona game, along with Suarez. Besides that, they didn't seem to interact too much. The first time they were seen playing together was in the El Classico video, Messi often taunts Neymar by comparing his skills and showing his 5 Ballon D'Ors or mocking his hairstyle or diving habits. Although, it's proved that Messi likes Neymar a lot, as he cared more about Neymar staying rather than winning the Ballon D'Or. He wanted to become BFF's again with him in 2020. Messi said no and then claimed he was a BFF but then Neymar screwed him over. But if Messi goes to Paris, he easily reform the friendship they once had.
Luis Suarez
Suarez is a great friend of Neymar. Suarez first appears with Neymar at his transference day, where the two promise to be best friends forever. They later on speak about practicing a link-up play. But Luis Suarez dont really like having Neymar taking a penalty because he takes a too long run-up.
MSN
Together they are called MSN. They are called like this, because they were a legendary threesome before he left for PSG. One year after his trasfer he wanted to go back to barcelona, but he wasnt able to go. Suarez also left Barća for Atletico Madrid leaving the frontline at just M. Messi is now trying to leave Barcelona to join Neymar at PSG and form a new frontline of MMN or a 4 of MIMN. Neymar desperately wants him to join ever since he wanted to leave Barća.
Taking Penalties
Notaxmar take penalties in a long time. He runs and jumps so slow that Chewy Suarez always remind him" Hurry up!" or says "You'll miss anyway". But Notaxmar never thinks about that and he says " Shut up!"
Gallery