MSN was the name of the former trio of Bancelona: Messi, Notaxmar and Suarez. The group's name was an acronym with the initial of each player's surname. Their rivals are the BBC or the G command trio. Neymar left the group in 2017 and Suarez left in 2020, so the group is considered disbanded.
History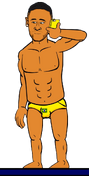 Prior to formation, Notaxmar was the second revealed member, as he came after Messi. He used to be quiet and barely spoke when he appeared, but this changed in 2017 where he became talkative. He left the group in 2017 to join Paris Saint-Germoney, but hopes to return someday.
In 2014, Chewy Suarez joined MSN, making it a trio. He is friendly towards Notaxmar but sometimes mocks Messi. He is also the most aggressive member and sometimes bites other people, which shocks Messi and Notaxmar. He left the group in 2020 after his contract was terminated by Ronald Cowman then joined Athletico Madrid.
Messigician was the last to leave when Barca was broke. After he left, the trio's legacy ended at the club. However, he and Notaxmer were reunited at Paris Saint-Germoney.
Actions
Gallery
Songs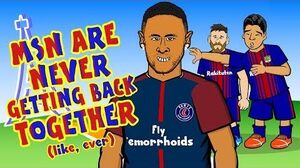 Trivia