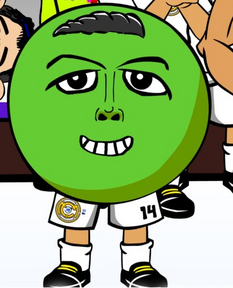 Little Pea Hernandez is a footballer who plays for LA Galax-Z and the Texmexico national team.
Recap
He formerly played for Bale Madrid with Cristiano Arrogantaldo. He then went on loan to Pea-Er Leverkusen, and signed permanently with West Hammers. However, he transferred to Seevilla in the summer of 2019 before moving to LA 1 year later.
History
2015
His longest appearance was in the game of Real Madrith vs Atletico Madrith 1-0, where he passed most of the game failing with his kicks, until Arrogantaldo came and passed to him to make a goal.[1] He appear alongside Van Persie to MAN UTD exiting UCL on December [2]
2018
In the World Cup 2018 Group opener, he appeared when Chucky scored against Germany. It is also revealed that he laced the German team's pre match meals with chilli, leading them to keep pooping themselves and hence lose the game. [3]. He also scored one goal against South Korea, a feat that led to 50 goals and the knockout stage against Badzil[4].
References