Lille is a team in the French Ligue Urn, the first division of Varance.
​Coaching Staff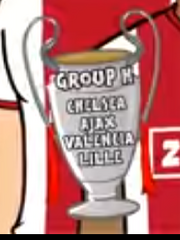 Players
Goalkeepers
Defenders
Sven Boatman

Adama Soumaoro

Thiago Dialo

New Domagoj Vida

Reinaldo Mandanda

Zeki Celik

Jeremy Pie
Midfielders
Dakary Soumare

Sheikh Niasse

Eugenio Pizzaro

Ben Andre

Xheka

Yussuf Yazici
Forwards
La Bamba

Jonathan Icons

Luiz Araujo

Isak Lihadji

Jonathan David

Son of George Weah

Burak Yilmaz

Fadiga Outara
Former Players
Appearances in 442oons
Lille have not had many appearances yet in 442oons, but they appeared first in the team's react to the Champions League group stage draw 2019/20. They again appeared about a week later in the Champions League song, this time with three of their players appearing too(see above), which were Mike Maignan (Their GK), Renato Sanchez, and Jose miguel. Then, in a later video where One-eye Emeryboard (Unai Emery) tries to get rid of Nicolas Pepe, he is shown in a Lille kit. In the Champions League matchday 1 highlights, Lille is shown again, this time with none of their players being shown as Eye-axe wins against them 3-0. In the video, it shows the Eye-axe players celebrating a goal by Dušan Tadić.
Parody names and logos 
442oons did not put a parody name for Lille in the Champions League 2019/20 song, but earlier in their first appearance they were given the name Lillebitdrunk, which was probably a reference that they might be partying after making it to the Champions League for the first time in their history. Lille's full kit have been shown, but their logo is very blurry and hard to make out. On their kit, their parody sponsor is Ya Langer!, a reference to Roy Keane and their official sponsor, Boulanger.