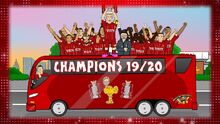 This club is loosely based on Liverpool F.C in real life. In the video, it is also known as Salahpool or Lorverpool. It's stadium is Jurgenfield (Anfield in real life). It is also one of the best clubs in the world.
Former players
Edit
1.
Jerzy Dudek
(went to
Real Madrith
, now retired)
2/17 Alvaro Arable (wrócił do Real Madrid później West Ham i teraz przeszedł na emeryturę)
4. Kolo Toure (went to Celtic)
5. Milan Baros (went to Gaston Villa later Galatasaray and now Banik Ostrava)
5. Daniel Agger (went back to Denmark and now retired at young age)
6. Dortmund Lovren (went to zenit)
7.
Chewy Suarez
(went to
Barcelionela
)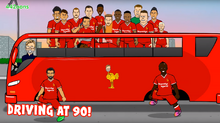 8.
Slippy Gerrard
(out to
LAG
later Finished Career)
9. Fernando Torrid (went to Chelski and later to ACDC Milan and Atletico Madrith)
Andy Carrallwaysinjured (out to WestHammers, now Newcastle Disunited)
9. Iago Badpass (out to Celta de Vigo)
23. JC (retired)
10. Phil Cuteinho (out to Barcelionela, now on loan at FC Bayern Munchausen)
11. Sellifyoucan Diao
12. Christian Poorness
13. Paul Connedchesky
6. Ginge Arne Riise
14. Xabi Irunslow (Bale Madrid and later Bayern Munchausen)
24. Welsh Pirlo (Stoke Wet and Windy)
9. Christian Beatnik (Crystal Pardew)
25. Pepe Reina (Bayern Munchausen and later S.S.C. Napoli)
18. Kuytwoman
31. Rah££m Loves St£rling (out to Manchester Shieky)
37 Martin Skorcel (out to Fenerbacce SK)
38 Jon Flanagan (out to Brrrnley)
45 Not so Super Mario Balotelli (out to OMG)
50. Lazarquest Markovic (out to Fulham City)
Joao Teixeira (do Vitoria Guimaraes)
?? Adam Bogdan ( on loan to wigan)
Peter Crouch (out to Portsmouth and later Tottenham Hotform and Stoke Wet and Windy)
Madman Sakho (to Crystal Pardew)
Lucas Leiva (to Lazio)
Dominication Solanke ( to Jason Bournemouth)
Danny Ings (out to Saintshampton)
Conor Masterson (To QPR)
Simon Mingingsave (To Club Bobbs)
Marko Grujic (to Hertha Locker)
Ragnar Balaklavan (to Cagliari)
Alberto Smalleno (to Yellow Submarine)
Connor Randall (to Arda Kurdzhali)
It is known as Li-VAR-pool FC
It is also known as Salahpool
Community content is available under
CC-BY-SA
unless otherwise noted.