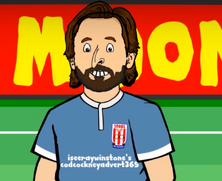 There is a problem with parsing the infoboxJesus Allen, formerly Welsh Pirlo / Welsh Xavi is a Welsh player who plays for the Stoke Wet and Windy and is a former player of Swanastery and Leavethepool. He is based in the player Joe Allen, he is known as "Welsh Xavi / Welsh Pirlo". In an official interview he said he likes to be called as "Pirlo". He also appeared in the Wacky Race 21 with a shirt saying "No Pirlo no party".
Gallery
Community content is available under
CC-BY-SA
unless otherwise noted.