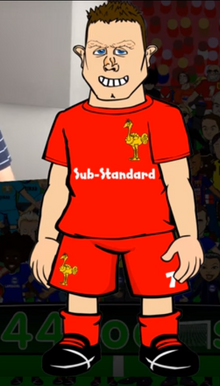 James Run-of-the-Millner is a former Man Sheiky and Astonishingly Bad Villa midfielder and defender who now plays for Leavethepool.
He is well known for running due to some real life statistics that said that his real life counterparter was the player of Premier League who most run in the field.
In the game against betweem Mancheshair United and Man Sheiky he was tackled by Smalling who then got a second yellow card.
In a video he was seen to like Ribena (only called Ribe-ner) while celebrating Mo Salah's golden boot.