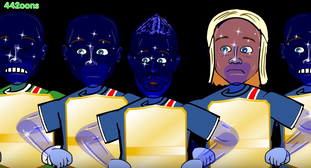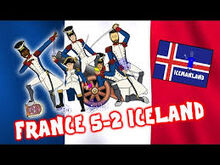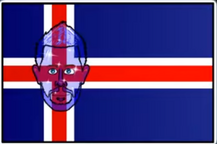 ''Ice Ice baby''
Iceman Land is the parody of Iceland national team.

All players are Iceman. They do exercise.
Iceman Land appears on UOAFA EURO 2016 Francewalkawais.
Their main player is Gylfi " Ice-man " Sigurdsson.
They are best known for the Euro 2016 song "Iceland baby" debuted vs Ronaldugal.
Players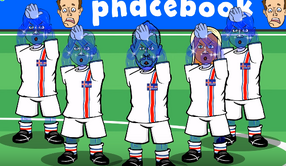 OUAFA Euro 2016 France
Group Stage
Group F
Day 5
Ronaldugal 1-1 Icemanland
Scored To Iceland
Gylfi 50' 1-1
Day 9
Icemanland 1-1 Attila the hun-gary
Scored To Iceland
Sigurdsson 39' 1-0 (pen.) Ice-man 88' 1-1 (o.g.)
Day 13
Icemanland 2-1 Arnia
Scored To Iceland
Boovarson 18' 1-0 Ice-man 90+4' 2-1
Tabel Group F
W D L Pts
1.Attila-the hun-gary 1 2 0 5
2.Icemanland 1 2 0 5
3.Ronaldugal 0 3 0 3
4.Arnia 0 1 2 1
Other Matches In Group F
Arnia 0-2 Attila-the hun-gary
Ronaldugal 0-0 Arnia
Attila-the hun-gary 3-3 Ronaldugal
Round Of 16
Engbland 1-2 Icemanland
Scored To Iceland
Sigurdsoon 6' 1-1
Sibpórsoon 18' 1-2
----------------------------
Quater-final
Les Blose 5-2 Icemanland
Scored To Iceland
Sibpórsoon 56' 4-1
Gylfi 84' 5-2
The UOAFA EURO 2020 Europe DVD