There is a problem with parsing the infoboxHurri-Kane is an Engbland player and player of Tottenham Hotform He made his 442oons debut in February 2015 in a video parodying that year's North London derby, in which the real Kane scored two goals. He has become one of 442oons most popular and used characters.
He has a speech problem, and usually spits while he talks. but you can understand what he says in a few videos he appeared in.
History
2013
Harry Kane was on loan to Leicester city where he met Vardy. He was substituted in in the semi-final playoff against Watford where he met Troy Deeney.[1]
Main Appearances (Recent)
North London Calling
Spurs Beat Real Madrid
No Hoodoo
Q&A: Kane and Coutinho
Kane: What's in the Box?!!!
Ronaldo vs Kane
Spurs 1-2 Chelsea: When the Spurs Go Marching In
2-0 Spurs vs Arsenal: St Totteringham's Day
Harry Kane Q&A
SPURS OUT!
Harry Kane ASSAULTED!(Tunisia 1-2 Engbland)
Harry Kane commentates on Harry Kane's hattrick(Engbland 6-1 Panama)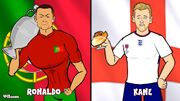 Gallery