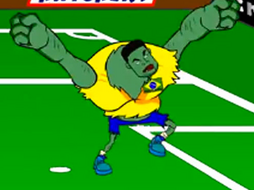 There is a problem with parsing the infobox"Hulk smash!"
Hulk Smash is a player of Badzil and Atletico Mineiro.
Career
He appeared in the Brazil 2014 World Cup , when he fails making a penalty goal against Chilly. He also celebrated with his teammates in the game vs Collapsebia. He got angry when Muller burried the Brazil team and punched Muller away.
He appeared again in the Champions League 2015/16, making a goal for his club.
Gallery
Trivia
The name of his club (Avengers St. Petersburg) is more likely given because of him.