Giorgio Chiellinguine is a Greataly football player who plays for Old Lady.
Bio
Appearance
Originally, Chiellini had the same body as Cristiano Euronaldo and Garry Bale. However, beginning with "UCL Intro Theme Song", he was given more realistic design.
Personality
Chiellini tries to avoid being bitten as seen in his debut video.
History
Relationships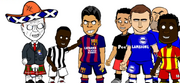 Chewy Suarez bit him during the FIFAIFOFUM World Cup 2014 Brazil, making Chiellini one of the footballers who has been bitten by Suarez.
Gallery