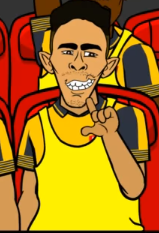 There is a problem with parsing the infobox Gabriel is a player of Badzil and Vicki Valencia.
Career
She appeared in the video of Arsene X Chelsea 0-1, where she kicks Diego Costly-Coffee and receives a red card for doing so.
She also appeared in the Champions League 2015/16 video of Arsene X Bayern Munchausen 1-5, where she fails at defending and Muller taunts her, telling he is a big fan of her squad number (because her squad number is 5 and Bayern scored five goals).
She also made an appearence in Premier League Wacky Races 6 and in the Giroud Hat-trick parody.
He has been redesigned with a realistic appearence.
Trivia
In her first appearence, after she gets a red card, she is referred with the male pronoum "he". This could have been an error or maybe something that 442oons would change later, since other footballers transforemd into girls (such as Adele Alli, Jessie Lingard and Adrian) are referred with female pronouns.