There is a problem with parsing the infoboxDirty Sanchez is player of Chilly and Inter Mulan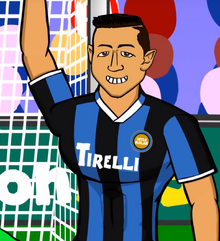 Bancelona and Arsene F.C..
in the Arsey Whinger Q&A, it is shown Dirty Sanchez and Arsey have "team talks" and is described by Arsey as "Willing to experiment".
He scored the winning penalty vs Argentina in The Copa America final 2015.
His dream is to get back to his former club, Bancelona.
Gallery