""My hair is so nice!""

– David Louise
David Louise is a Badzil football player who plays for Flamengo.
Bio
Appearance
David Louise originally had light brown afro hair, but was redesigned with a more realistic appearance after the 2014 FIFA World Cup.
Personality
David Louise speaks with a light voice and acts somewhat of a flamboyant way; hence his parody name "Louise". Other players considered a bad defender by most of players, despite he being in Chelsea's main squad in Premier League 2016/17 season, which they were champions.
History
David Louise debuted in the FIFAIFOFUM World Cup 2014 Brazil opening theme, after which he transferred to PSlotsofG and appeared in two Champions League videos. In 2016, David Louise returned to Chelsea much to everyone's surprise. Although almost everyone thought he would be a bad defender, his team got lots of clean sheets that season and ended as champions, with only 5 defeats in the Premier League.
Relationships
David Louise and Will.I.An have been close since they played together. In 140+ Footballers' Voices in One Take, the two compliment each other's hair-style. When David Louise came back to Chelsea, Will.I.An was the only player of the club to be happy about it despite Louise being considered a bad defender.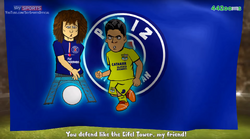 During Penaltypool song, Suarez dived in front of Louise to get a penalty. In Hwan Mata's song, the former was seen chasing Bernieslaven Ivanitch, trying to bite him with Louise smiling. They met again during Champions League 2014/15 while David Louise playing for PSG. In one match against Bancelona, Suarez nutmegged him and explained how bad he defended like the Eifel Tower. Despite this, Suarez calls him "my friend".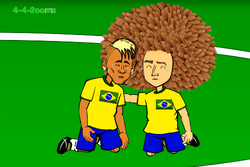 David Louise and Notaxmar sang together in the 2014 FIFA World Cup opening theme, where he joked about his diving habit. In the first match, David Louise talked with Notaxmar and Fred about what they could do win the match because they were losing after Marcello's own goal. After Badzil won the penalty shootout against Chilly, Notaxmar started crying and Louise went to comfort him. They suddenly started to have feelings for each other and almost kissed, but were interrupted by Hulk.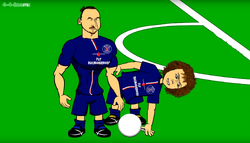 In the Champions League opening song, Louise mentions Zlatan Egohimovic's name instead of the team, to which the latter ignores. During PSlotsofG's match in Champions League 2014/15 against Chelsea, David Louise cheats by changing the spot that Egohimovic would take the free-kick. Much to Schlong Terry's sperm, Ibrahimovic explains that the white thing David Louise had moved was actually Schlong Terry's sperm, much to David Louise' disgust.
When Egohimovic returned to Man We're shite, Ed, he asked how his hair was better than David Louise' own. He also celebrated along other Premier League strikers that Louise would be a defender because they thought he was going to be terrible at defending.
Cavani acts harshly with Louise, always calling him a "flea-bitten fur-brain" and considering him a bad defender, proved when he let Louise play in attempt to not let Zlatan win. Despite the harsh treatment, Cavani actually likes Louise, what is proved when Louise returned to Chelsea and Cavani mentioned how he would miss him but not his mistakes. In Cavani's last episode as Skeletor, he asks Thiowngoal Silva about Louise's whereabouts and jokes about his transfer.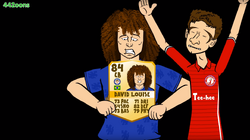 Muller likes to mock and troll Louise like he does with other football players. He always laughs about him defending because of Germazing's 7-1 victory against Badzil. During Badzil squad's funeral after losing to Germany 7-1, Muller calls David Louise and Will.I.Am "silly haircurts".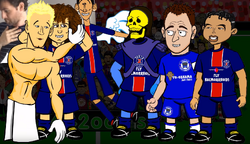 Joe Hairt praises David Louise' hair by saying that it was nice.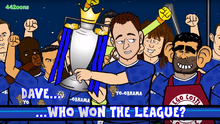 Terry wiggles his eyebrows after David Louise tries to cheat against Chelsea by changing the spot of the referees mark, just to find out that the white thing was Terry's sperm. During the title winning song, Terry kindly asks him to repeat who won the league, mostly likely recognizing his great perfomance that season.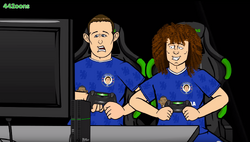 During his time in PSG, David Louise became angry after Cahill scored for Chelsea in Champions League 2014/15. Once David Louise returned to Chelsea, he and Cahill became closer. They played FIFARCE 17 together and the game ended in 22-22.
Azpilicueta was not happy about Louise returning to Chelsea as a defender. However, both of them did a good season and were almost always seen together.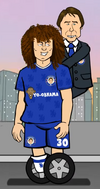 Unlike everyone else, Conte was proud of signing David Louise for Premier League 2016/17. His trust on him turned out to be effective, as Chelsea won the title with only 5 defeats.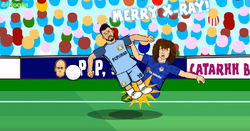 Louise hits Aguero in a match but does not receive a card. The latter gets revenge by stamping on him later on the same match, resulting in a red card.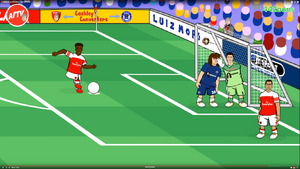 During Arsey Whinger's rant about Arsenal losing to Chelsea, Kepa is seen stroking David Louise' hair, which they both enjoyed.
Trivia
David Louise is one of 442oons characters who had the most designs, because there was even a poll to with design should be literally killed.

There was controversy because many people voted for old David Louise believing that the more votes a character had, and he would stay alive.
He also was one characters with the most changes in designs, with 4 in total.
Gallery
Artwork
Screenshots