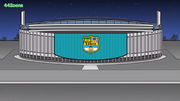 Camp Nou is stadio barselona
Full name
Camp Nou
Former names
Estadio del CF Barcelona (1957–1975)

Estadio del FC Barcelona (1975–2000)

Location
Barcelona, Spain
Coordinates
41.38087°N 2.122802°E
Owner
FC Barcelona
Operator
FC Barcelona
Executive suites
23
Capacity
93,053 (1957–1980)


121,749 (1980–1993)
115,000 (1993–1999)
98,772 (2005–2010)
99,354 (2016–)

Field size
105 m × 68 m (115 yd × 74 yd)[1]
Surface
Grass
Scoreboard
Yes (Flatscreen)
Construction
Built
1954–1957
Opened
24 September 1957[1]
Renovated
1995, 2008
Expanded
1982
Tenants
FC Barcelona (1957–present)


1992 Summer Olympics
Catalonia national football team
Camp Nou (Catalan pronunciation: [kamˈnɔw], "new field", often referred to as the "Nou Camp" in English)[2][3] is a footballstadium in Barcelona, Catalonia, Spain. It has been the home of FC Barcelona since its completion in 1957.
With a seating capacity of 99,354,[4] it is the largest stadium in Spain by capacity. It is also the largest stadium in Europe and the third largest association football stadium in the world in terms of capacity. It has hosted numerous international matches at a senior level, including a 1982 FIFA World Cup semi-final match, two UEFA Champions League finals and the football competition at the 1992 Summer Olympics.
Contents
[hide] 
1History

1.1Construction
1.2Early years and the 1982 World Cup
1.3Development

2Renovation and expansion
3Other uses
4Transport connections

4.1Tramway
4.2Metro
4.3Bus
4.4Airport

51982 FIFA World Cup
6References
7Bibliography
8External links
Community content is available under
CC-BY-SA
unless otherwise noted.