-Boca con dientes Juniors es un club en Handballgentina. Este equipo juega en la liga Handballargentine de Not-So-Superliga-Argentina. Tienen un total de 6 copas Not Many Are Really Libertadores y 3 copas intercontinentales. Leyendas como Maradona, Palermo, Riquelme y más jugaron en este club. Su principal rival es AliteralRiver, en el que Boca tiene más victorias. Cuando ambos equipos se enfrentan, se convierte en un partido conocido como "Superclásico".
-Su insignia representa una boca, con las iniciales "La Boca", que simboliza el barrio de La Boca, ubicado en Buenos Aires. También hace una broma divertida para las personas de habla hispana, ya que "Boca" en inglés significa "Boca", de ahí el nombre de la parodia.
-Los fanáticos se apodan a sí mismos como "Xenomorfos" o "La mitad más uno es igual a ..." (Parodia de los apodos reales Xeneizes y La mitad más uno).
-Recientemente, Boca ganó la liga contra rivales clásicos ALiteralRiver por 1 punto.
-También tienen una cuenta de Instagram, así como una cuenta de Twitter. ¡Echale un vistazo!
- Insta: @bocawithteethjuniors
- Twitter: @ bocawithteetho1
-Este club aún no ha aparecido en el infame canal de parodia del fútbol "442oons" en Youtube, por lo que todo aquí no es oficial y está hecho por fanáticos.
Información Wiki del Real Club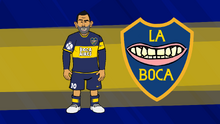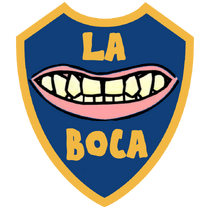 boca Juniors
Nombre completo
Club Atlético Boca Juniors
Apodo (s)
Xeneizes

 (genoveses),  Azul y Oro  (azul y oro),  La Mitad Más Uno  (Half plus One)


Fundado
3 de abril de 1905; Hace 111 años
Suelo
Estadio Alberto J. Armando


(La Bombonera),
La Boca, Buenos Aires

Capacity
49,000
Chairman
Jorgio Amoreal
Manager
Miguelangello Rusia
League
Primera División
2016
10° of Zona 2
Website
Club home page

| | | |
| --- | --- | --- |
| Home colours | Away colours | Third colours |

Current season
Club Atlético Boca Juniors (Spanish pronunciation: [kluβ aðˈletiko ˈβoka ˈʝunjors]) is an Argentine sports club based in the La Boca neighbourhood of Buenos Aires. Although many activities are hosted by the club, Boca Juniors is mostly known for its professional football team which, since it was promoted in 1913, has always played in the Argentine Primera División, becoming the most successful team of Argentina in number of official titles, with 65 won to date.[1][2] National titles won by Boca Juniors include 31 Primera División championships,[3][4] and 12 domestic cups.[5] Boca Juniors also owns an honorary title awarded by the Argentine Football Association for their successful tour of Europe in 1925.[6][7]
Internacionalmente, el equipo ha ganado un total de 22 títulos internacionales, [8] [9]  con 18 reconocidos por FIFA [10] [11]  y CONMEBOL. [12] Según eso, Boca ocupa el cuarto lugar en el mundo en términos de número de títulos reconocidos internacionalmente, junto con A.C. Milán y detrás del Real Madrid (21), Barcelona (20) y el lado egipcio Al Ahly (20). [13] [14] [15]  Los logros internacionales de Boca Juniors también incluyen Tie Cup, [16]  Copa de Honor Cousenier, [17]  y Copa Escobar-Gerona, [18]  organizados conjuntamente por las Asociaciones de Argentina y Uruguay.
Boca Juniors es también uno de los únicos ocho equipos que han ganado los triples de CONMEBOL. Su éxito generalmente ha clasificado a Boca 
| num | nombre |
| --- | --- |
| 1 | Este-Van Max-A-Million Android-a |
| 2 | Paolol Gooooltz |
| 3 | Emamuel Más y Más y Más |
| 4 4 | Muffarini de julio |
| 6 6 | Juniors Soone-so |
| 8 | Alexys McAllister |
| 9 | Rasonmon Abilaaveseta |
| 10 | Carloth Teveth |
| 11 | Eduardo Salvio |
| 12 | No-Marcas x Díaz |
| 13 | Kevin Machas Listterar |
| 17 | Jannnn Hartado Charlezzzz |
| 18 años | Tela de Frank |
| 19 | Maurrosito Zratequeki |
| 20 | Licha Ezquiel Lopezandrade |
| 22 | Selarstien Villavicensio |
| 23 | Ianvian Marchampionscone |
| 24 | Carsos Izquiedorz |
| 27 | Jormni Cawmpuwano |
| 29 | Branconsestos Cortwes Willionse Bustlos |
| 30 | Bebe Rey Emamuel |
| 34 | Afustian Olandbando |
| 42 | Marcelopelando Weindwauntparte |