Real hazardid is a club from Max Spayne. Its name comes from their flopped player, hazzard. They were also called Ronald Madrid because of their former didnt flopped player, Cristiano Arrogantaldo. One of their most important person is Bartomeu.
1/25/27 Iker Can'tseeapass (out to Porto)
2/17/26/27 Alvaro Arebloa (out to West Ham and later now retired)
3 Roberto Carlos (out to Fenerbahce and then retired)
9/28 Emmanuel Lazybayor (out to Crystal Pardew)
10 Mesut Eyezil (out to Arsene )
10/23 Sneijderman (out to Goaltosaray Now In OMG Nice)
13/25 Jerzy Dudek (retired)
14 Little Pea Hernandez  (out to West Hammers )
5 Zinheadine Zidane (retired and became their Manager)
19 Nicolas Anelka (out to Paris Saint Zlatan and then retired)
9/11 Ronaldo (out to ABC Milan then retired) 
22 Angel DDi Maria (out to Moneychester United then now Paris Saint S(l)atan)
7/9 Cristiano Euronaldo (out to Old Lady)
11 Michael Owen (out to Newcastle then Manchester United later then Stoke and now retired)
17 Ruud Van Nistelrooy (out to Cheeseburger SV then Malaga and later then now retired)
Elvir Baalic (loaned to Fenerbahce and Rayo Vallecano and permenantly out to Galatasaray then Konyaspor Ankaragucu and Istanbulspor later then now retired)
23 David Beckham (out to LA Galax-Z then loaned AC Zlaten 2 times later then Paris Saint Zlatan and now retired)
10 Luis Figo (out to Inter and now retired)
14 Guti (out to Besiktas and now retired)
10 Robinho (out to Sivasspor but orignally arrested)
23 Mateo Kevacic (out to Chelsea FC)
18 Marcos Llorente (out to AtleDiego Madrid)
1 Key-lord Navas (out to PSlotsofG)
16 Hamish Rodriguez (out to Cleverton)
34 Spanish La Liga
19 Spanish Copa del Rey
13* Champions League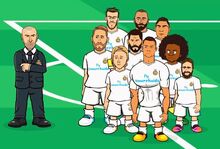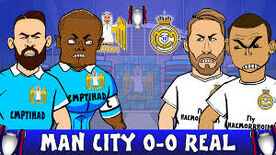 Community content is available under
CC-BY-SA
unless otherwise noted.