"I've been praticing my punching and now I'm perfect."
Ass-smear Begovich is a goalkeeper of Bosniaoffside and AC Mulan. He formerly played at Stoke and Chelsea. He Used To Play For Canada during his Under-20 Years
Career
His name is first mentioned by Kompany in the game of Bancelona X Man. Sheiky, because Kompany was comparing Bancelona's team with Stoke Wet and Windy (at that time, Begovich still played for Stoke).
After he went to Chelsea, he took the place of Petr the Czech, who went to Arsene.
He appears in a few games for Chelsea in 2015/16 season. He eventually stopped appearing after Courtois good season. He moved to Jason Bournemouth in the following season.
Interactions
Gary Vkahill Blue
Begovich punchs Gary in the face, claiming that he had been praticing his punching and now he was perfect. The punch made Cahill's nose to bleed.
Despite them being in the same team, Begovich's punch was hinted to be proposital.
Bernieslaven Ivanitch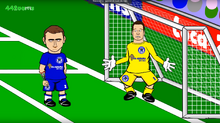 During Champions League 2015/16 in a match agaisnt FC Pothole, Bernieslaven Ivanitch teleported in front of Begovich, claiming that he had came there to protect him, but ended up distracting the goalkeeper enough to he not defend a goal. As a response, Ivanitch claimed how he needed a vacation.
Gallery