There is a problem with parsing the infoboxAndres Tiniesta is a midfielder who plays for Vessel Kobe Bryant and Max Spayne.
Origin
He is based on Andrés Iniesta. His name is because he is a very skilled player.
Career
His name is mentioned on Bancelona's players list in the game where Barcelionela lost to Sociedad. At that time, his name was Inniexcellent.
He was seen for the first time (although we can only see his back) in the UOAFA Final vs Old Lady. In that video his name was Inithebesta, and he was hit by Vidal.
He also scored against Real Madweed, in the El Clasico 2015, where he scored a goal.
He appeared in the Champions League 2015/16 and his most important appearence was in the referee's fail to give a penalty. In that game, he argumented with the referee, trying to get the
Then, in 2018, he moved from Barcelionela to a Japanese team called Vissel Kobe.
Appearences
Real Sociopath vs Barcelona (his name is mentioned)
Champions League 2014/15 final Juventus vs Barcelona
Interactions
Notaxmar
Notaxmar assistis Inhexcellent in the El Clasico 2015. After the goal, both Inhexcellent and Notaxmar celebrate.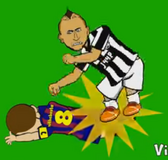 RTAro Vidal
Vidal angrily stomps Inhexcellent in UOAFA Final vs. Old Lady.
Gallery
Trivia
His old name Inithebesta clearly is a pun of Iniesta and the best, but it's interesting that the word besta is a portuguese word that could mean beast, brute or stupid.