These are the characters of 442oons that I think that amade me laugh everytime that I saw them.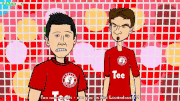 Of course, I couldn't make this list with The Comedian! Muller is certainly one of the funniest characters and he makes a lot of jokes, but I don't think all of his jokes funny, that's why he is number 10.

Angel is very funny trying to speak. Also, his house being robbed maks me laugh a lot.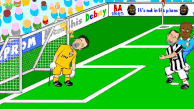 He was very funny in the videos with Coutinho and we can't forget his reaction to the game with Bancelona.
7. Simon Mingingsave
The Leavethepool goalkeeper was very funny, specially because of his  derpy eyes.
6. The Ho-Landers
I know they are a group, but they are very funny as Super-Heroes. I would say that Stef the Fridgeman and Klassman becoming jealous of the other character suited as Batman.
Why he is funny? Because he is a caveman who likes to use a pacificier! And he is not the smartest character at all...
4. Old Lady
The fact that she is an old lady who has an incredible ability already explains everything.
3. Wayne The Ogre
Wayne is definetelly stupid (and himself proved this in his Q & A!) and that's why he is very funny.
Isn't him the one who always says "Good one"? So he is the second on my list!
1. Dim Tim
Well I have to admit that everything that Dim Tim spoke was very very very funny! That's why he is the number one of this list.
What about you? What are the funniest 442oons characters in your opinion?